Update on the California Drought: April 4 – April 26, 2017
From the Pacific Institute's California Drought Response Team
Top Story
An Era of Extremes
Looking back over the past five years, meteorological data show that the 60-month period between January 2012 and December 2016 was the hottest on record, with an average temperature of about 60.2 °F. It was also the 11th driest since record keeping began in 1895. While the California drought developed after months of precipitation deficits, the end of the statewide drought came quite swiftly.
Several severe winter storms since the beginning of the 2016/17 water year (which began on October 1, 2016) resulted in floods and nearly caused the Oroville Dam, the nation's tallest, to fail. Meanwhile, the Northern California mountain region surpassed the wettest water year on record as early as mid-April. NASA data show that the snowpack in the Tuolumne River Basin in California's Sierra Nevada is larger than the four previous years combined.
On April 7, 2017 Governor Brown issued Executive Order B-40-17, lifting the statewide drought emergency across the state except in Fresno, Kings, Tulare, and Tuolumne counties. These counties face persistent problems with diminished groundwater supplies, which take longer to replenish than surface water. The continuation of emergency drinking water projects in these counties will help their communities cope with local water shortages.
The drastic change from a record-breaking drought to record-breaking precipitation marks a new era of climate extremes. To safeguard Californians against future droughts, the governor's Executive Order maintained water reporting requirements and prohibitions on wasteful water practices, such as watering during or immediately after rainfall. State agencies have also issued a plan to continue to make water conservation a way of life in California.
In Other News
The State Water Resources Control Board has approved up to $35 million in Proposition 1 grants and loan forgiveness in order to connect East Porterville residents with dry and contaminated wells to a clean and reliable source of drinking water from the City of Portville. During the drought, hundreds of East Porterville residents had their wells run dry, and those who still have access to groundwater face contamination problems. The project to connect East Porterville to the city of Porterville's public water system aims to provide a long-term solution to the area's drought emergency.
Over 3,200 trees in Bakersfield, located in Kern County, are dead or dying due to drought and insect infestation. This unprecedented number represents about 2.7% to 3.2% of the city's canopy cover. More than half the trees lost since January 2015 have been coast redwoods, the same species as the tallest tree in the world.
Following the state's exceptional March 30 snow survey results, the Bureau of Reclamation, which manages the Central Valley Project (CVP), has announced an increase of water supply allocation for all South-of-Delta contractors to 100% of their contract supply. This is the first full allocation since 2006.
The Department of Water Resources (DWR) has also increased the allocation of 2017 State Water Project (SWP) water to 100% for contractors north of the Sacramento-San Joaquin Delta and 85% for long-term contractors in other regions. This is the highest allocation since 2006.
Returns of spawning Klamath River Fall Chinook salmon are projected to be the lowest on record in 2017 due to drought, disease, poor ocean conditions, and other issues. As a result, several fishing areas are expected to be closed in 2017 and the open areas are expected to be significantly constrained.
The Pacific Fishery Management Council (PFMC), which regulates the commercial and recreational fishing of California, Oregon, and Washington fish stocks, will choose among a set of options aimed to limit the total harvest of Klamath River Chinook salmon to no more than 1,600 fish. Only half of this amount would be designated for the Yurok and Hoopa Valley Tribes.
Meanwhile, the Karuk Tribal Council has placed restrictions on subsistence salmon harvests for tribal members for the first time in its history. The reductions in salmon for subsistence and ceremonial use will likely increase economic and cultural burdens on tribes that have long relied on salmon resources.
A new report by the Pacific Institute found that the five-year California drought led to an increase in electricity costs of approximately $2.45 billion. Due to limited hydropower capacity during the drought, electric generation switched to more carbon-intensive options including natural gas, leading to a 10% increase in CO2 emissions from power plants
The State Water Board recently rescinded the water supply "stress test" requirements and the remaining mandatory conservation standards for urban water suppliers. However, the monthly water use reporting requirements and prohibitions against wasteful practices are still in effect.
Urban water conservation remained strong at 25.1% in February 2017 relative to the 2013 water production of the same month. Water use reductions likely resulted from high levels of precipitation and less water demand for outdoor irrigation, which makes up a significant portion of overall residential water use. The cumulative statewide savings from June 2015 through February 2017 was 22.5%, representing about 2.6 million acre-feet of water conserved. This amount is enough to supply more than 13 million Californians for a year.
A new study by the Alliance for Water Efficiency and Plumbing Manufacturers International (PMI) estimates that replacing non-efficient toilets (1.6 or more gallons per flush) with high efficiency 1.28 gallons-per-flush toilets in residential buildings across Arizona, California, Colorado, Georgia, and Texas could save between 90 and 170 billion gallons of water a year. Toilet flushing is the largest indoor use of water, and toilet replacement is an important strategy to conserve water resources.
California Drought Status
Drought Monitor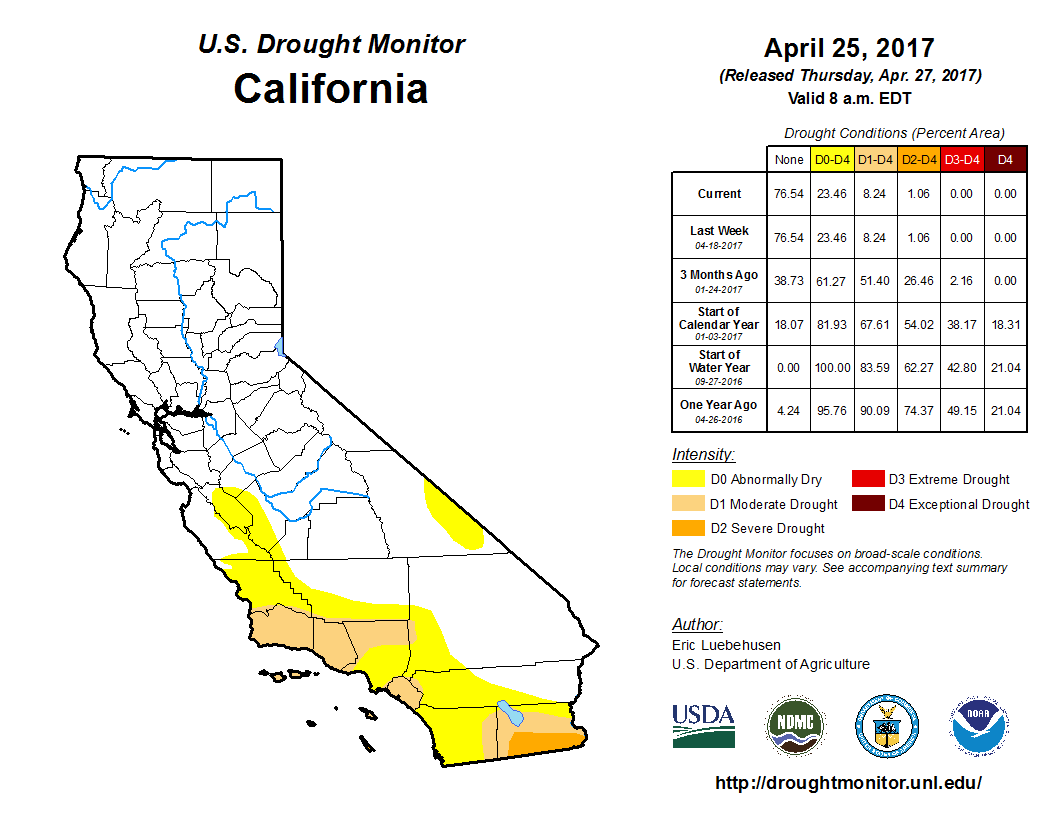 The statewide drought emergency is over, but about 15% of California, concentrated along the Southern Coast, remains abnormally dry as of April 26. Another 8% is experiencing moderate to severe drought conditions, the same as last month. About 77% of the state is identified as drought-free.
Precipitation
Since the beginning of the water year on October 1, 2016, cumulative precipitation in California's three key hydrologic regions has been far above the long-term average. As of April 26, 2017, the Northern Sierra region has experienced the wettest water year on record, with 92.8 inches of precipitation. Cumulative precipitation in the San Joaquin region is currently at 71.0 inches, putting it on course to match or surpass the wettest year record. Meanwhile the Tulare Basin region remains very wet, with 45.8 inches of accumulated precipitation, almost doubling the long-term average for this date.
California's snowpack conditions remain excellent; total snowpack from the electronic reading was about 193% of average for April 26.
Reservoir Conditions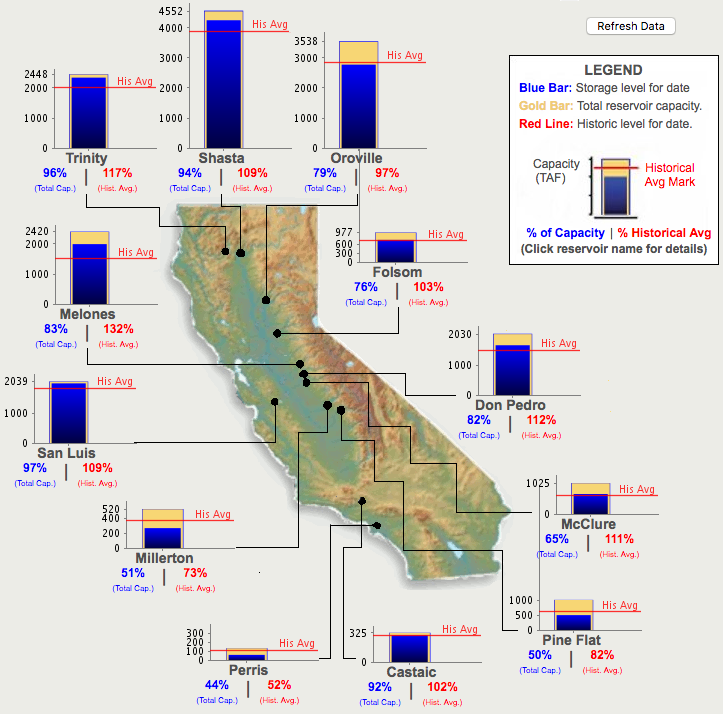 The water levels in California's major reservoirs (representing 27.3 million acre-feet of storage) remain the same as last month, representing 80% of statewide capacity. Current storage levels are 110% of the historical average for this time of year, slightly higher than last month. As of April 26, conditions at selected reservoirs were as follows:
The water level at Lake Shasta was at 110% of the historical average for this time of year. Lake Oroville and Folsom Lake were at 99% and 104% of the historical average, respectively.
The water level at the New Melones Reservoir, another major reservoir with a 2.4 million acre-feet capacity, was at 132% of the historical average for this time of year.
The water level at the San Luis Reservoir was at 109% of the historical average for this time of year.
A notable exception is Lake Cachuma, which supplies water to the city of Santa Barbara and other urban areas in Southern California. This reservoir remains well below average, at 58% of the historical average for this time of year as of April 26.
Hydropower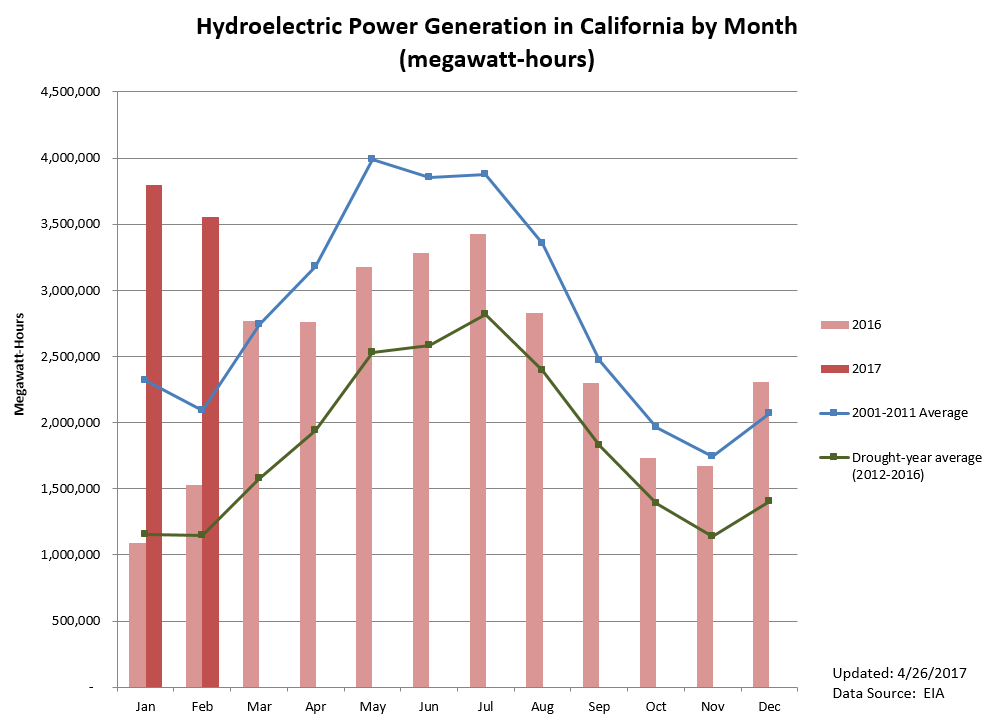 Statewide hydroelectric power generation was about 3,600,000 MWh in February 2017, 132% higher than last year's February production and 209% higher than the 2012-2016 February average. With record-high precipitation, hydropower production is expected to increase due to snowmelt and will likely peak between May and July 2017.
Groundwater Conditions
Groundwater conditions have likely improved as a result of recent storms, but comprehensive data are updated infrequently. Some recent data are available for adjudicated basins for the 2015-2016 water year.
The most comprehensive data on groundwater conditions are based on measurements taken in fall 2016. Maps of spring and fall groundwater level changes can be found here. Parts of the Tulare Lake, the South Coast, and the Colorado River hydrologic regions experienced groundwater declines of more than 100 feet between fall 2011 and fall 2016.
Additional Resources