This week in… Groundwater
A new report prepared by NASA for the Department of Water Resources (DWR) shows that increased groundwater pumping in the San Joaquin Valley has caused widespread land subsidence. Some areas have been sinking nearly two inches per month. Subsidence can damage nearby infrastructure and permanently reduce the aquifer's water storage capacity.
DWR also released a draft list of Critically Overdrafted Groundwater Basins. According to the Sustainable Groundwater Management Act of 2014, DWR must identify high and medium groundwater basins and subbasins that are in conditions of critical overdraft. These basins must be managed under a groundwater sustainability plan by January 31, 2020; all other high and medium priority basins have until 2022.
As of August 19, approximately 2,225 wells statewide have been identified as critical or dry, which affects an estimated 9,488 residents. The vast majority of these wells are in the Central Valley.
In other news…
-The Proceedings of the National Academy of Sciences published a study that shows that, although there is no significant trend in meteorological drought in the United States, there is an increase in meteorological droughts overlapping with heatwaves, which "could lead to a compound extreme event with significant impacts." 
-The Bureau of Reclamation will begin releasing water from Lewiston Dam on the Trinity River, the Klamath River's primary tributary, in order to protect salmon fisheries.
-The Bureau will also cut flows from Folsom Dam in half in order to conserve water. Folsom Reservoir is currently at 20% of capacity and about 75,000 acre-feet away from dead-pool, where the lake levels will be too low to continue pumping.
–Statewide water use in July was down 31% this year from 2013.
California Drought Status
Drought Monitor
Drought conditions remain unchanged from two weeks ago.
Reservoir Conditions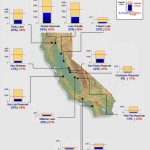 Statewide, California's major reservoirs (representing 27.3 million acre-feet of storage) are at 30% of capacity and 49% of group average.
Hydropower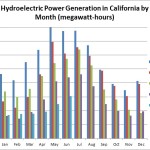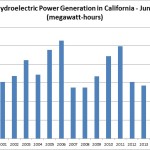 Hydroelectric power generation in June this year was 31% lower than 2014 and 60% lower than the 2003-2013 average.