Special Drought Update
Pacific storms in early January have brought widespread, intense precipitation to California, providing relief to some drought-stricken regions but also flooding. According to the U.S. Drought Monitor, about 35% of the state is no longer experiencing drought, and the proportion of areas under extreme-to-exceptional drought fell from 38% on January 3rd to 28 percent by January 10. Cumulative precipitation hit a record high, doubling the historical average for this time of year. While a weak La Niña persists, sea surface temperature will transition back to normal by February 2017. Surface reservoirs, especially in Northern California, are beginning to refill, but groundwater aquifers in many parts of the state remain severely overdrafted and will take far longer to recover.


The New Year Begins with Improved Drought Conditions, but California's Snowpack Still Well Below Average
Happy New Year!  Winter storms have improved drought conditions in many parts of the state, especially in the North Coast. Yet, several warm storms in December brought more rain than snow, and the snowpack remains well below average. The first manual snow survey on January 3 at Phillips Station near Lake Tahoe found a snow-water equivalence of six inches, or about 53% of the early-January average of 11.3 inches. The snow-water equivalence is the theoretical depth of water that would result if the snowpack melted instantaneously.
Statewide, the electronic reading shows that the snowpack is about 70% of average for this time of year. Snowpack conditions will likely improve in the coming months, as January and February are among California's wettest months. Snow measurements between January and April 2017 will guide water management decisions for the rest of the year.
In Other News
California Drought Status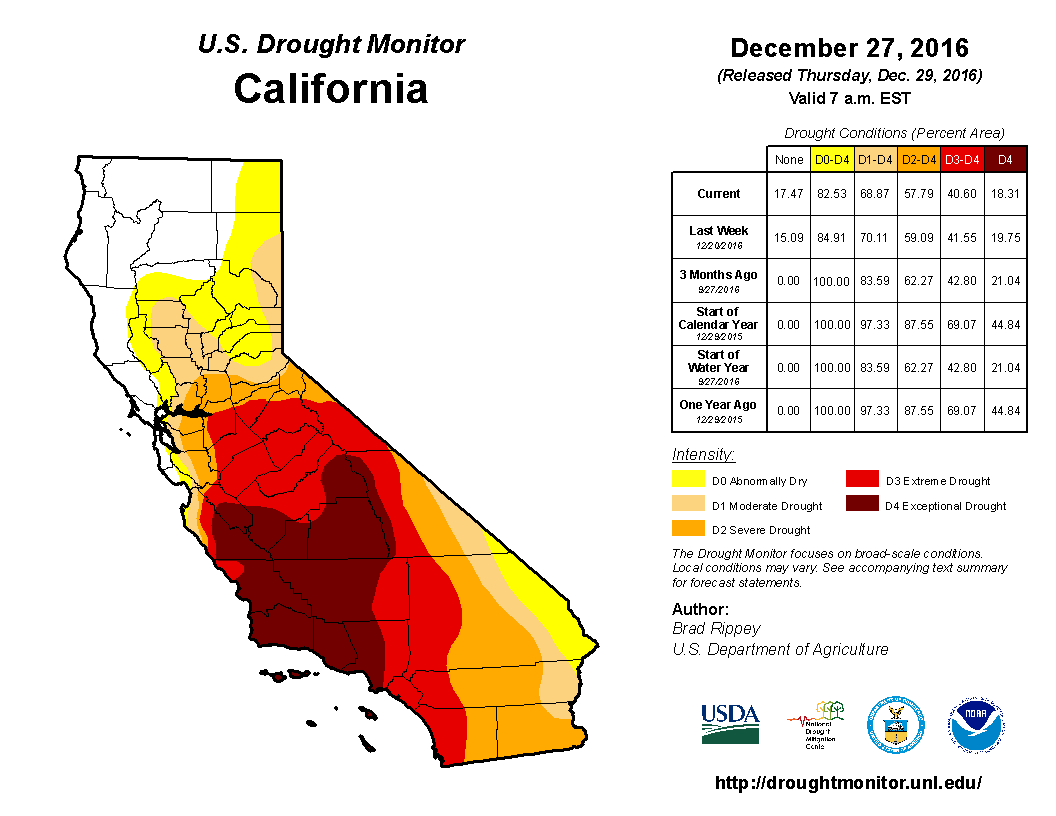 Drought Monitor
About 41% of the state remains in extreme-to-exceptional drought, two percentage points less than a month ago. Moderate-to-severe drought conditions affect 28% of the state, four percentage points less than last month. About 17% of the state is now identified as drought-free. The North Coast region has seen the greatest recovery from the drought.
Precipitation
Since the beginning of the water year on October 1, 2016, cumulative precipitation in California's three key hydrologic regions are now average or above average. The Northern Sierra region is on the course to match the wettest winter in 1982-1983, having accumulated 30.5 inches of precipitation as of January 3, 2017. In the San Joaquin region, cumulative precipitation is about 2 inches above average. After a wet December, cumulative precipitation in the Tulare Basin rose to about 10.9 inches, slightly above the long-term average.
However, most precipitation fell as rain and the state's snowpack is still about 70% of normal (long-term average) for January 3, 2017.
The NOAA's next El Niño/ La Niña forecast will be available on January 12, 2017.
Reservoir Conditions
Due to winter reservoir releases, the water level in California's major reservoirs (representing 27.3 million acre-feet of storage) has decreased by four percentage points to 46% of the statewide capacity compared to a month ago. Current storage levels represent 93% of the historical average for this time of year, about six percentage points higher than last month. Conditions in individual reservoirs have generally improved. For example:
The water level at Lake Shasta is at 118% of the historical average. Lake Oroville and Folsom Lake are at 91% and 83% of the historical average, respectively.
The water level at the New Melones Reservoir, another major reservoir with a 2.4 million acre-feet capacity, is at 46% of the historical average.
The water level at the San Luis Reservoir hit its lowest level in 27 years in mid-August and now stands at 90% of the historical average for this time of year.
Lake Cachuma, which supplies water to the city of Santa Barbara and other urban areas in Southern California, increased slightly to 8% of its capacity since August 2016. The current level is 11% of the historical average for this time of year.
Areas affected by catastrophic wildfires in 2016 were about 36% less than in 2015. By the year's end, a total of about 7,200 catastrophic wildfires have burned across 570,000 acres of the state, compared to 890,000 acres in 2015.
Please note that wildfire data are preliminary and may change. They are updated daily by the National Interagency Coordination Center.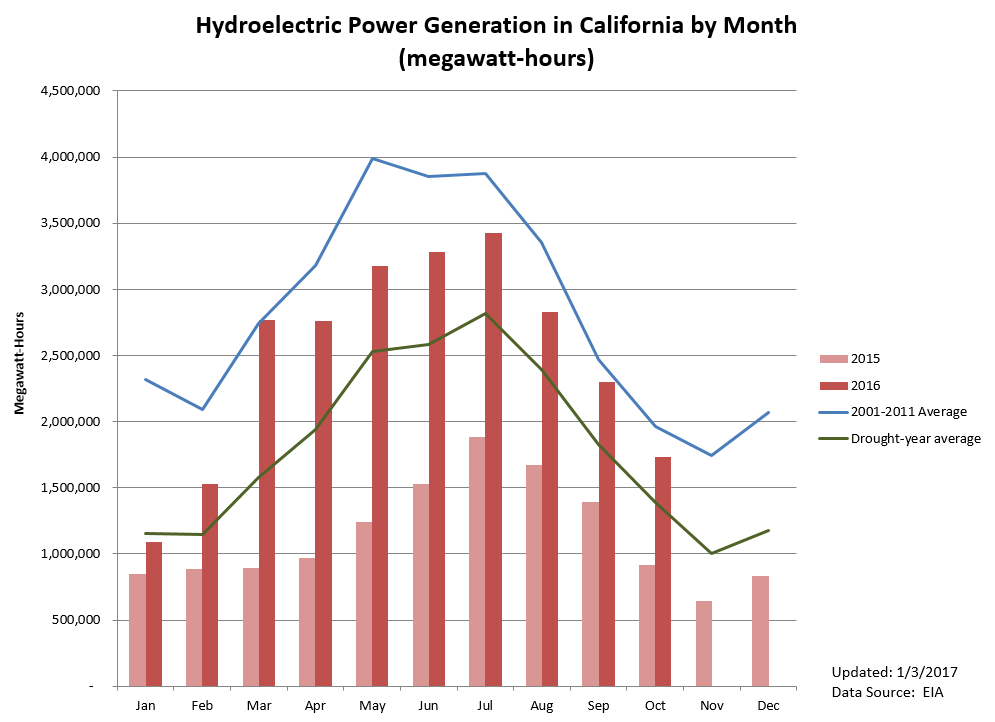 Hydropower
Statewide hydroelectric power generation in October 2016 was about 1,700,000 MWh, an increase of 89% over last year's October production of 920,000 MWh. Total generation was about 12% below the 2001-2011 average for the same month.
Groundwater Conditions
The most recent data on groundwater conditions are based on measurements taken in spring 2016. Maps of spring and fall groundwater level changes can be found here. Parts of the Tulare Lake, the South Coast, and the Colorado River hydrologic regions have experienced groundwater declines of more than 100 feet between fall 2011 and fall 2015.
Additional Resources