Special Drought Update — February 13, 2017
Another series of storms has brought heavy rain and strong winds to much of California, causing widespread flooding, especially in Northern California, and threatening the structural integrity of the Oroville Dam, the nation's tallest. Counties and cities near Lake Oroville have issued emergency evacuation orders for 188,000 residents due to eroded primary and emergency spillways which could lead to the uncontrolled releases of water.
Drought conditions have continued to improve, with about 11% of the state experiencing severe to extreme drought, compared to 20% last week. The area no longer experiencing short-term drought effects has increased from 40% to 41.5% over the past week. La Niña conditions have subsided and normal sea surface temperatures in the Northern Hemisphere are expected to continue through spring 2017. Despite these improvements, drought impacts on overdrafted groundwater basins, forests, and aquatic species in California are long term and will take multiple above-average precipitation years to be resolved.
Update on the California Drought: January 4 – 31, 2017
From the Pacific Institute's California Drought Response Team
Top Story
A Silver Lining as California Trends Toward More Extreme Weather
The recent wet weather has been topping the news over the last several weeks. In response to severe storms, Governor Jerry Brown has declared a state of emergency in 50 counties across California. The proclamation will help secure funding to help communities respond to and recover from flooding, mudslides, erosion, debris flow, and damage to roads and highways.
Due to winter storms, the U.S. Drought Monitor has removed the designation of "exceptional drought" for California. More than half of the state, however, is still experiencing moderate to extreme drought conditions, with the drought in parts of Ventura, Santa Barbara, Kern, and Los Angeles counties more severe than in the rest of the state. Despite considerable improvements in reservoir and snowpack conditions, groundwater aquifers, forests, and endangered fish species may take several years to recover from drought impacts.
In Other News
California Drought Status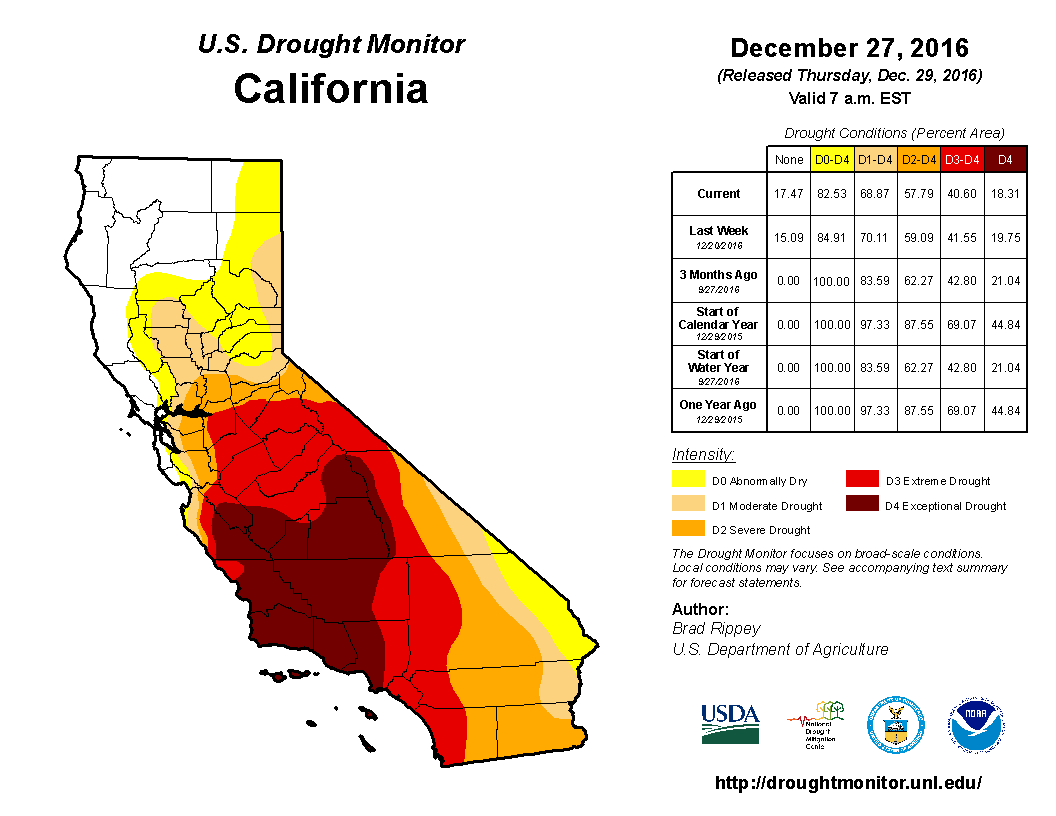 Drought Monitor
A series of winter storms have resulted in record-level precipitation and a removal of the exceptional drought designation from the state's drought monitor. Currently, about 39% of the state is identified as drought-free. Areas under extreme drought conditions fell from 41% to only 2% over the past month. Nearly half of the state is still experiencing moderate to severe drought conditions.
Precipitation
Since the beginning of the water year on October 1, 2016, cumulative precipitation in California's three key hydrologic regions is far above the long-term average. As of January 31, 2017, the Northern Sierra and San Joaquin regions have received 53 inches and 43 inches of precipitation, respectively, and are on track to receive more precipitation than in the 1982-1983 water year, the wettest on record. Cumulative precipitation in the Tulare Basin region, currently at 30 inches, is also on track to match the region's wettest recorded water year in 1968-1969.
California's snowpack conditions are excellent. Total snowpack is about 180% of normal for January 31, 2017, and 108% of the April 1 average (when snowpack is supposed to be at its peak).
Reservoir Conditions
The water levels in California's major reservoirs (representing 27.3 million acre-feet of storage) have increased by 19 percentage points over the past month, and now represent 65% of the statewide capacity. Current storage levels represent 110% of the historical average for this time of year, about 17 percentage points higher than last month. Conditions in most reservoirs have improved:
The water level at Lake Shasta is currently at 117% of the historical average for this time of year. Lake Oroville and Folsom Lake are at 124% and 81% of the historical average, respectively.
The water level at the New Melones Reservoir, another major reservoir with a 2.4 million acre-feet capacity, is at 70% of the historical average for this time of year.
The water level at the San Luis Reservoir is now at 105% of the historical average for this time of year.
Lake Cachuma, which supplies water to the city of Santa Barbara and other urban areas in Southern California, remains well below average. Over January, the water level increased from 8% to 12% of capacity. The current level is 16% of the historical average for this time of year. /li>
We will resume updates when the 2017 wildfire season begins (typically in May).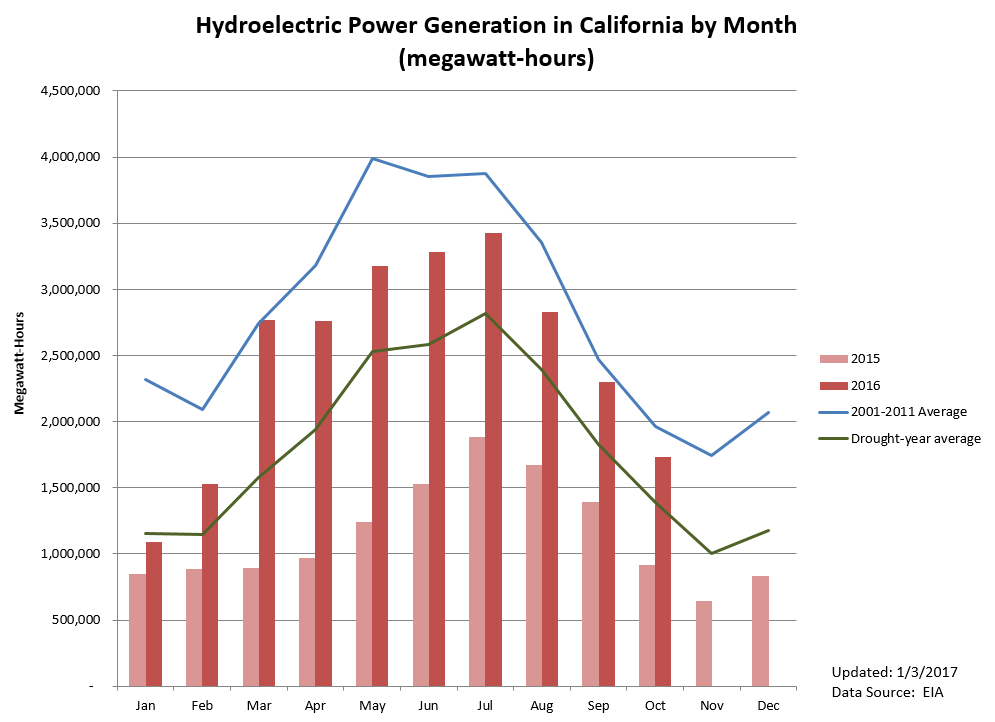 Hydropower
Statewide hydroelectric power generation improved in November 2016. Production was about 1,700,000 MWh, an increase of 160% over last year's November production of 650,000 MWh, but it was 4% below the 2001-2011 average for the same month.
Groundwater Conditions
Groundwater conditions have likely improved as a result of recent storms, but data are updated infrequently.
The most recent data on groundwater conditions are based on measurements taken in spring 2016. Maps of spring and fall groundwater level changes can be found here. Parts of the Tulare Lake, the South Coast, and the Colorado River hydrologic regions have experienced groundwater declines of more than 100 feet between fall 2011 and fall 2015.
Additional Resources
The California Data Exchange Center provides California water and weather-related resources including snow surveys and rainfall maps. It is managed by the California Department of Water Resources (DWR).
A "one-stop shop" for water data and maps is being offered by the National Oceanic and Atmospheric Association (NOAA).
The Tree Mortality Viewer shows areas of high hazard zones and related information. The tool was created by the Tree Mortality Task Force, comprised of state and federal agencies, local governments, utilities, and other stakeholders.
The California Harmful Algal Blooms (HABs) Portal provides timely information on reported sightings of the potentially toxic blue-green algal blooms and affected water bodies.
The Groundwater Information Center (GIC) interactive map is available for public use. It was developed by the California Department of Water Resources.
River conditions by the California Nevada River Forecast Center (CNRFC).
Interactive map of residential and system-wide water use in California by the Pacific Institute.
California climate anomaly maps and tables by the Western Regional Climate Center (WRCC).